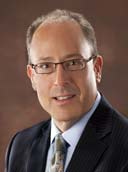 Steve Getzfrid, CPA - Director and Associate Partner
With more than 25 years of leadership within accounting, finance, audit, and project management, Steve brings valuable experience to his role as a search executive. Steve knows first-hand that the most important factor in the success of a leader, division, or company is deeply rooted in getting the right players on the team and having each player in the right position based upon their individual strengths and interests. Steve is an engaging individual who adds value to the selection process while partnering with clients to identify the right person for the position. Steve truly cares about each individual he interviews and makes sure he understands their strengths, interests and long-term career goals to ensure that we have identified the "right match" for both our client and candidate. Steve plays an important leadership role at Hemphill with responsibility for the growth and success of the Accounting & Finance search services delivered by Hemphill Search Group, Inc.
Steve earned his Bachelors Degree from the University of Nebraska at Lincoln, practiced as a CPA and Manager with KPMG in Omaha, and later served clients of Crowe Horwath in Michigan. While in private industry, Steve played important leadership roles within the internal audit departments of Commercial Federal Bank, ConAgra, and First National Bank. While with ConAgra, Steve progressed to Financial Management roles within operating companies and later led profit improvement initiatives, business process re-engineering projects, and operations focused process improvements. As Director of Finance and Project Manager on ConAgra's SAP Implementation team, Steve led a team of finance, systems, and process owners while ensuring the implementation was a success.
Steve grew up in Fremont, NE. He enjoys reading, sports, golf, and quality time with his family. Steve and his wife Wendy have 3 children Stosh, Maggie, and Emma. Stosh is a CPA at Deloitte, and Maggie is an elementary school teacher. Emma, the youngest member of the Getzfrid family is studying accounting at the University of Nebraska at Omaha.