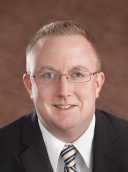 Jeff Kovar - Director and Associate Partner
Jeff has more than 15 years of experience within accounting and financial recruiting. A key factor in Jeff's success is his passion to build long-standing relationships while focused on an in-depth understanding of the strengths, interests, and career goals of each individual he works with. Jeff takes pride in his role, and knows that helping an individual step up to a position where they are focused on their strengths, while having the opportunity to grow professionally, are key factors in identifying the "right match." "It is incredibly rewarding to know that we have helped make a real difference in the life of an individual when we place them into a company where they are well positioned for success, happiness, and career growth."
Jeff understands that the biggest factor contributing to the success of a leader is their ability to identify, hire, develop, and retain high quality employees. Jeff is tenacious in his recruitment and careful while selecting individuals who will be successful and happy in their new position long-term. It is all about the "right match" so, Jeff pushes himself to make sure that the companies and the individuals we assist have found the right solution!
Jeff graduated from Millard South High School where he played basketball and was active in student council. Jeff had fun while investing six years coaching youth basketball in the Omaha Parochial Athletic League and the Millard Junior High feeder league. Jeff studied Pre-Law at the University of Nebraska at Omaha, and then transferred to Creighton where he switched his major to Organizational Communication. Prior to joining Hemphill Search Group, Jeff worked in corporate foreign currency exchange, with Travelex and Custom House, who are both now owned by Western Union Business Solutions.
Jeff and his wife Jenny grew up in Omaha and met while in High School. They are very active and enjoy playing golf, traveling, and cheering the Cornhusker Football and Basketball teams, and they are also enthusiastic Creighton Basketball fans. Jeff and Jenny have a young and growing family, with son Connor, and daughters Kate and Grace.