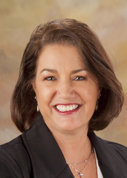 Jeannie Harnack - Director of First Impressions
Jeannie is in charge of "first impressions" and is a proud member of the administrative support team at Hemphill. In this role, Jeannie works closely with all members of the Hemphill team to ensure each guest has an excellent experience, knows we genuinely care about them, and are eager to help. She truly loves building relationships with clients, candidates, and Hemphill associates working at client locations. Jeannie manages a wide variety of administrative responsibilities. She administers the assessment surveys and selection tools that help Hemphill get selection and match analysis right the first time. Jeannie also completes research, analysis, event planning, and marketing initiatives.
Jeannie is an outgoing individual who enjoys helping others, so her days are filled with opportunities to make a positive impact for our clients, the individuals we are assisting with career management, and Hemphill associates working at client locations. Jeannie shared "I enjoy working with individuals from all walks of life. We work with individuals at all stages of their careers, from those who are just starting out, to others who have a wealth of experience and prefer the flexibility that consulting projects offer. Some are proactively managing a search, while others are doing well in their career, yet open to better opportunities. There is a sense of fulfillment knowing we make a difference while helping them in their journey, including those that are relocating to the area. It's very exciting every time we create the right match!"
Jeannie grew up in Carroll, Iowa. She built an educational foundation at the University of Iowa, then moved to Omaha where she was the Executive Director of the Omaha Builders Exchange, before shifting her focus to her family and serving children as a preschool teacher. Later, Jeannie enjoyed her time in staffing while working in the Human Resources department of Commercial Federal Bank. Prior to joining Hemphill, Jeannie was an Administrative Assistant then Grants Manager for The Sherwood Foundation. Jeannie is a Member of St. John the Baptist Greek Orthodox Church, a proud Mother of Jessica, Jayme, Michael, Maggie, and Mark, and a fun Grandma to Andrew, Alaina, Cecelia, and Lilly. Jeannie enjoys spending time with family and friends, attending concerts, travel, scuba diving, dancing, and girls craft weekends.