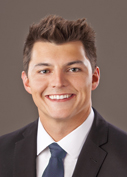 Austin Hemphill - Recruiting Manager
After more than two years in public accounting as a member of the audit team at BKD, LLP (now FORVIS), Austin shifted his career to a position that blends his accounting and business experience with his passion to deliver solutions that have a positive impact for others. At Hemphill Search Group, Austin helps leaders hire impressive individuals at all levels of accounting, finance, tax, audit, financial reporting, financial systems, fixed assets, budgeting, forecasting, bookkeeping, accounts payable, accounts receivable, billing, and payroll.
While in public accounting, Austin audited small, mid-sized, and large corporations in a variety of industries. His experience in public accounting combined with the discipline to gain an in-depth understanding of the position being filled, the skills, experience, and personality needed to be successful and happy in the position and company is a secret to his success. Austin is passionate about finding the "the right match - the first time" and shared: "This is important work, and I really enjoy placing an individual into a position where I know they will be successful and genuinely happy while adding value to our client and their new team of co-workers."
Austin spends 100% his time helping leaders hire high quality individuals well matched for success and happiness. Helping a leader hire a high performing individual makes a very positive impact for the leader, the team of co-workers, and the person we placed! Austin shared: "It is incredibly rewarding to call the person we placed 6, 9, and 12 months later to hear they are having a lot of success, proud of their contribution to the company, and hearing they are having fun and truly happy in the position, company, and culture we helped them identify."
Austin grew up in the greater Omaha area and graduated from Gretna High School. While in high school, Austin wrestled, played varsity football & baseball, and he was a two time state champion powerlifter. While in college, Austin played football for the University of Nebraska-Lincoln. As a student athlete, Austin was added to the Dean's List, and the Nebraska Scholar-Athlete Honor Roll while earning his Bachelor of Science degree in Accounting and Minor in Management. He was named to the Brook Berringer Citizenship Team and the Tom Osborne Citizenship Team. Austin volunteered and helped raise awareness and money for pediatric brain cancer research through his involvement in the Nebraska Football Road Race. He supported those in need at the St. Anthony's Homeless Shelter, others through the Husker Heroes Outreach program, and several school and hospital outreach programs. Austin is an active member of the University of the Nebraska N Club and the Letterman's Association. As a former Husker, Austin is actively mentoring current student athletes and members of the University of Nebraska Football team through the mentoring program TeamMates. He is a member of the Association of Corporate Growth, the Internal Audit Association, and Austin regularly attends Love Church in West Omaha.
Austin's interest in business started at an early age when he started Austin Enterprises a lawn mowing, snow removal, and landscaping business at age 12. Austin operated the small business for 11 years through junior high, high school, and college. Austin is an outgoing individual who loves athletics, travel, hiking, being outdoors, and making memories with friends and family. He also recently finished his first full marathon.