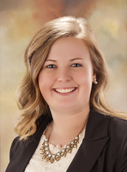 Anna Bleyhl - Director of First Impressions
Anna is in charge of "first impressions", and she takes ownership for administrative support at Hemphill. In this role, Anna works closely with our associates to ensure each individual has an excellent experience and all guests know that we genuinely care and are eager to help. She really loves building relationships with clients, candidates, and our associates working at client locations. Anna manages a wide variety of administrative responsibilities and assists with research, analysis, database integrity, event planning, and marketing initiatives.
Anna coordinates our skill and personality assessment process that ensures each individual we place is well-matched for success and happiness. Anna is an outgoing individual who enjoys helping others, so her days are filled with opportunities to make a positive impact for our clients, candidates and associates working at client locations.
Prior to joining Hemphill, Anna was the Administrative Assistant to the Department Chair & Professor of Civil Engineering at the University of Nebraska-Lincoln. She grew up in Omaha and graduated from Skutt Catholic High School. Anna earned her Bachelor of Science in Biological Science from the University of Nebraska-Lincoln. She really enjoyed her experience and learned a lot while participating in the Study Abroad Program at Franciscan University in Gaming, Austria. Anna enjoys helping others while working with One Heart One Fire Ministries. When Anna is not in the office, you may find her traveling (she especially likes international locations), attending concerts, swing and line dancing, and cheering on the Husker Football and Volleyball teams!