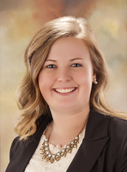 Anna (Bleyhl) Mangels - Director of Administrative Services
Anna takes ownership for all aspects of administrative support, coordination with vendors to ensure all technology, tools, processes and systems are running smooth. She manages purchasing and provides leadership and training for the administrative team. Anna ensures all administrative systems, processes, and procedures are refined and focused on efficiency. Anna manages special projects, the configuration and management of selection tools, systems, and database management. Anna assists with research, analysis, and she takes ownership for database integrity, marketing, corporate communication, and event planning.
She takes pride in knowing that members of the Hemphill team have all they need to deliver excellent solutions for the leaders we partner with, all Hemphill associates working at client locations, and the individuals we assist with career management. Anna and her team do a fantastic job of administering the assessment surveys and selection tools that helps Hemphill get selection and match analysis right the first time. She is passionate about ensuring each guest that interacts with our firm has an excellent experience and knows we genuinely care about them and their career.
Anna joined Hemphill as our Director of First Impressions and thrived while assisting clients, Hemphill associates working at client locations, and individuals we are assisting with career management. Anna was promoted to Director of Administrative Services in June of 2020. Prior to joining Hemphill, Anna was the Administrative Assistant to the Department Chair & Professor of Civil Engineering at the University of Nebraska-Lincoln.
She grew up in Omaha and graduated from Skutt Catholic High School. Anna earned her Bachelor of Science from the University of Nebraska-Lincoln, and will earn her Master's in Business Administration from the University of Nebraska at Omaha. She really enjoyed her experience and learned a lot while participating in the Study Abroad Program at Franciscan University in Gaming, Austria. When Anna is not in the office, you may find her and her husband Seth playing sand volleyball, traveling (they love international locations), attending concerts, swing and line dancing, cheering on the Husker Football and Volleyball teams, or caring for the cattle or crops on their farm.